It's when a client feels no longer like a client, but now, a friend. That's how you know you're doing something right.
Little did we know we were about to have a first portrait session with one of the most fun, loving, and down-to-earth couples we've ever met.
We parked the car off to the side of the road next to Coquitlam River. Mehdi says he ALWAYS parks there, so it's his "go/to" spot. He had told Onkar and Ryan to park there too, so we were waiting for about five minutes before we texted them asking if they were on their way. "We are waiting in the parking lot!" Onkar says. We walked over to join them and laughed at how hilarious the situation was that Mehdi, the one who has been going there for years did not know that there was a parking lot, and also told the couple to park there, meanwhile their first time being there, they immediately found an actual parking lot. We walked in near the river and began snapping some images and wow, were they looking beautiful. The wonderful thing about being a Vancouver wedding photographer is that when the photos just start out looking beautiful, you almost begin to get high on the beauty. You can't stop. This happened at this engagement portrait session. We brought with us a mini barbecue and marshmallows, and man, did it turn our exactly how we envisioned! We quickly realized that Onkar and Ryan were both fun, energetic, adventurous and stunningly romantic. As the lighting got darker, we asked them to sit down for some moody style shots and that is when all of a sudden the world was lit with beautiful lighting.
Three weeks later arrived Onkar & Ryan's Mehndi Night, and the next day their Maiyan night. What a beautiful pre-wedding two days filled with copious amounts of love, emotion and laughter. Take a look at how beautifully decorated this garden party was! What a delight it was to witness these lovely bridesmaids and family members getting their Mehndi put on.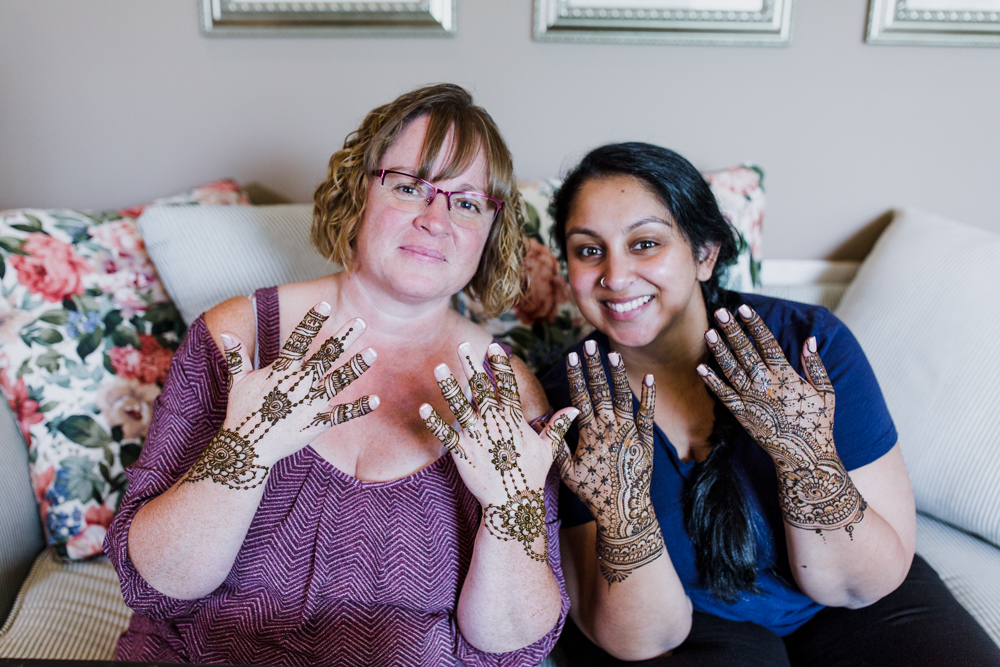 Wedding day
We arrived at Onkar's house at 6am to the ladies getting ready. Would you ever guess that the bridesmaids had to wake up at 3 o'cock in the morning for their preparation for the wedding?! Onkar was in the process of getting her bridal makeup done when we arrived, she looked absolutely beautiful already.
Shortly, after catching some moments from their preparation, we departed to go to Newlands Golf Course, where their wedding ceremony and reception took place. We met the rest of our photographers and videographers there, five of us in total to make sure we captured every single important, celebratory and non-celebratory moment of this beautiful wedding! It takes a village! :D
And before we knew it, the day was over and we found ourselves at home telling our cats about it.

What an honour it was to be a part of four of their wedding festivities. By the end of the reception we had felt like we knew the family so well that we were feeling emotional while listening to the speeches.
Editing these photographs has truly been the best problem I've ever had because I experienced an overwhelming, and never-ending desire to spend hours playing with them. We got to sit down to take a look at them the day after the shoot... but out of the million beautiful things we can enhance in a photo such as colours, or lighting, we were so struck by these beautiful photographs that we almost did not know which route to go. I, myself was most definitely getting emotional while editing them because it had felt like I had been looking at photos of old friends. Reminiscing on memories.
Being involved in this power couple's wedding journey is the greatest gift anyone could give us. By the end of it, we were most definitely feeling like we're not just "shooting a wedding", but more so having the honour of celebrating the marriage of two incredible people, and capturing the special moments in the process. What a journey!
We send a huge thank you and so much love to Onkar and Ryan and their family for an incredible wedding photography and videography experience.
Congratulations to the newlyweds! :)
-Mehdi and Alica