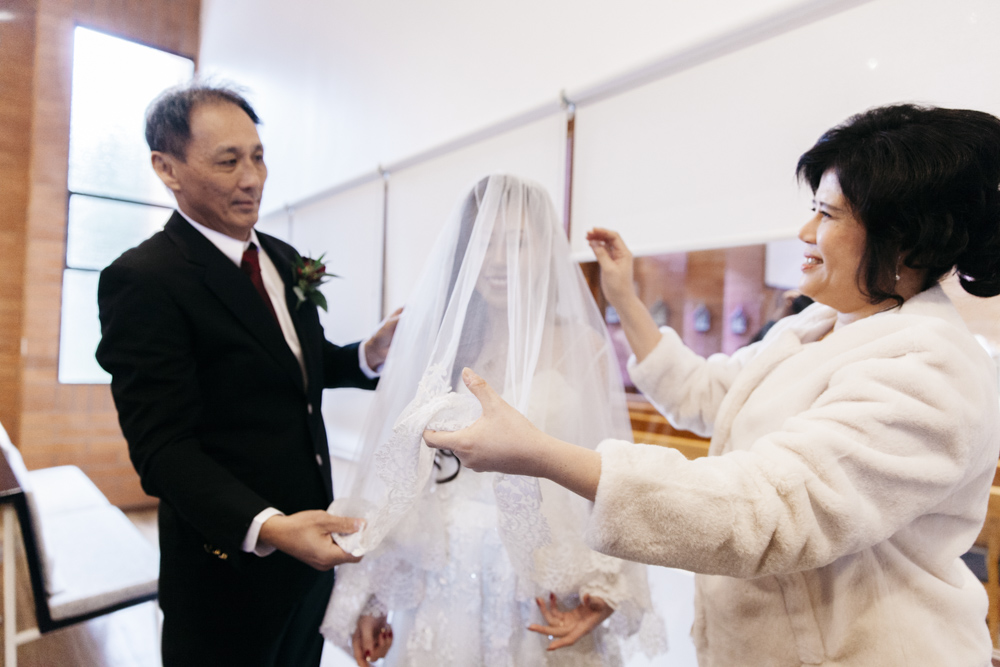 On such a crisp, holiday morning, we got on our way to photograph and film Daniel and Monica's gorgeous wedding. This was one of the most relaxed, low-key weddings we have ever witnessed, and yet it was so fulfilling and passionate. Their wedding ceremony was held at Our Lady of Mercy church in New Westminster, BC. Absolutely beautiful church, and even more beautiful of a ceremony filled with tears of joy and passion.

Mehdi photographed engagement photos for Daniel and Monica. We always like to say how amazing it is to have this engagement portrait session before the wedding, because it gives us a chance to not just get to know this engaged couple on a more personal level, but it also allows us to learn what the couple is comfortable with. Some engaged couples are more reserved, and prefer simple intimate, engagement photos. Simplicity in wedding photography is stunning yet there are couples who are ok with being lifted up onto a tree, such as Monica! We would not have known unless we had this lovely engagement shoot.
While deciding on different engagement photo poses, we come up with brilliant ideas for wedding photo poses! Not just on the wedding photographer's end, but the couple often gives their input aswell! It is amazing how collaborative wedding photography can be, and how much more fun it becomes!

There is something about the way photographs turn out in the presence of snow. The lighting is different, the background, the air smells fresh and new, and I swear, the world becomes increasingly silent. It makes for the perfect wedding atmosphere. Although the weather was going to make our fingers and toes freeze off, there was a large wave of excitement that took over our team.
Among all of Vancouver's beautiful locations at which we may take photos, this wonderful couple picked Deer Lake Park for the bridal party portrait session. We were absolutely fascinated by this group's ability to not just comfortably smile for photos during this portrait session, but simply hold the wedding photo poses without shivering! It is interesting how different photographing and filming is in the snow, we got some beautiful shots and footage with the snow in the background. What a beautiful, and friendly group of people we had the privilege of working with!
As a Vancouver Wedding Photography and Videography company, it is always an insanely important aspect for us for a venue to have an area for us to lay down our photography and videography "stash". Riverway Golf course was extremely helpful, very vendor friendly. Not to mention, what a stunning location for a wedding reception! Our entire team was thrilled to be able to comfortably work during the wedding ceremony! Huge thank you to this amazing venue for being so spacious, and Wedding Photographer/Videographer friendly! What a perfect day filled with passion, and some truly amazing moments.
From the moment we sent them our photography and videography packages, to the moment this beautiful wedding came to closure, this whole experience has truly been unforgettable.
Congratulations to beautiful Daniel and Monica, and a huge thank you for allowing us to have such a positive experience. Although the lovely wedding day is now a memory, we wish Daniel and Monica only the best, and most joyous days as a now married couple!